2017 - 20 years of FCM Group
For 20 years in the construction market, making the difference
2016 - The company VIAMEC is part of the FCM Group
Award of the first Hotel Modernization and Rehabilitation in Algeria through VIAMEC located in an oasis in the Sahara Desert in Beni Abbès
2015 - THE COMPANY ICD-INSTALAÇÕES TÉCNICAS, COMUNICAÇÕES E DOMÓTICA, LDA. ENTERS IN THE FCM BUSINESS GROUP
Angolan law firm specializing in technical installations expands FCM's business areas
2014 - AWARD OF 3 MAJOR PROJECTS BY HASNAOUI-FCM CONSTRUCTION
- Finishing works at 120 beds in an Oncology Hospital
in Sidi-Bel-Abbès;
- Construction of a hospital with 60 beds in Tabia;
- Sugar Refinery with 1000t/day capacity.
2014 - New headquarters of
ALPOTRADE - Serviços e Trading, Lda.
Beginning of Trading activities
2012 - Establishment of
HASNAOUI-FCM Construction
Established the first company with the Algerian group Groupe des Sociétés Hasnaoui to work in the construction sector in the western zone of Algeria
2012 - FCM starts its activities in Brazil
The awarding of the Enotel Hotels & Resorts project in Recife and the execution of three buildings in the Olympic Village in Rio de Janeiro marks the beginning of FCM in Brazil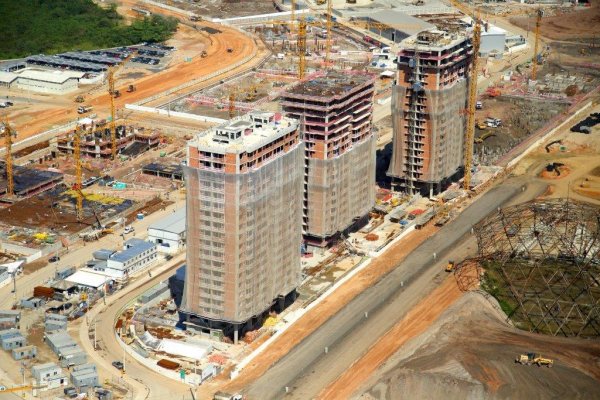 2011 - BUILDING AWARD
LOANDA TOWERS
Award with great importance in the Angolan market, consolidating the presence of FCM&LC as a reliable partner in the country
2011 - Award of the first dam
Baixo Sabor Hydroelectric Plant - Portugal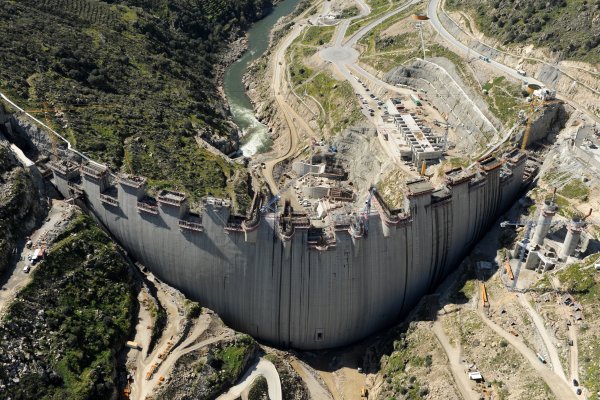 2010 - FCM WINS THE FIRST WORK IN ALGERIA AND STARTS A STABLE STAY IN THE COUNTRY
After a market research period in Algeria, FCM is awarded the first contract in Algeria
2009 - SETTING UP THE COMPANY
FCM & LC - CONSTRUÇÕES LDA ON THE ANGOLAN MARKET
FCM continues to grow and expand its business to new continents
2008 - BEGINNING OF ACTIVITY IN ROMANIA
FCM expands horizons and continues its internationalization process with the beginning of activity in Romania
2008 - FCM changes its image
In order to adapt itself to the market evolution, FCM invests in the change of its corporate identity, betting on a modern and rejuvenated image, maintaining in the logo the three pillars that gave rise to the brand
2005 - THE BEGINNING OF THE
FCM'S INTERNALIZATION
ENTRY INTO THE SPANISH MARKET
Reaching an objective of sustained growth, FCM began the internationalization process in 2005, with the award of projects in Spain
2005 - FCM - Sociedade de Construções, Lda. now designated FCM - Cofragens e Construções, S.A.
FCM's sustained growth, as well as its extensive experience in the area of ​​formwork and general contracting, led to a strategic decision that led to the change of the company's corporate name, allowing a market position appropriate to its evolution
2003 - AWARD OF THE FIRST
LARGE VIADUCT
FCM strengthens its experience with communication links with the award of the Viaduct over the Rio Sorraia in Benavente, Portugal. With 1,666m of extension, was executed with the aid of two movable scaffolding systems, one form traveler and load-bearing towers
2002 - Participation in the construction of the Coimbra and Leiria´s Stadiums with the execution of all the formwork works
It's with the company's participation in the emblematic works of expansion and construction of the new Euro 2004 stadiums that FCM stands out in the construction market and assumes a prominent position as a formwork specialist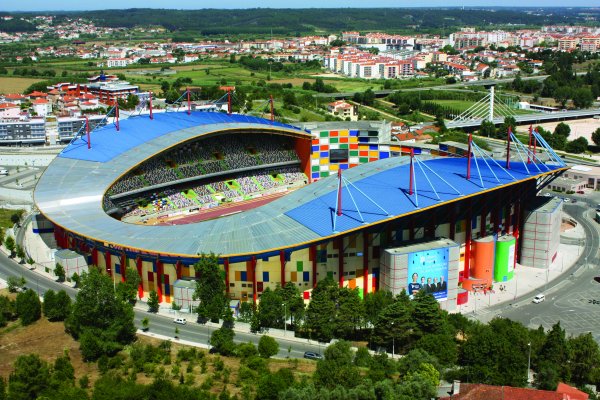 1999 - Construction of the first large-scale work under general contracting
With only 2 years of existence in the construction market, FCM is in charge of the first large-scale project under General Contracts, executing the entire project
1997 - Establishment of
FCM - Sociedade de Construções, Lda.
Adding the years of extensive experience and knowledge in civil construction of its founders, FCM - Sociedade de Construções, Lda was born during a period of strong growth in the construction sector in Portugal